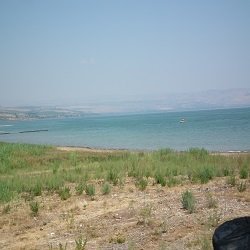 At Tabgha 2017


Sat , 30-9-2017



6937 views

From the first up to the third of September we enjoyed being at Tabgha for our annual conference
---
"Again he measured a thousand and brought me through the waters. The waters
were to the knees...." Ezekiel 47: 4

Tabgha: A place of real blessings & joy. Every year we, the participants, get to a
new dimension in our relationship with our Lord and Savior. For some, the waters
are to the heels,…knees, and for others it's to the waist and even more...

The place itself fills the soul with peace and hope. It inspires one
to take time with his Creator and hear HIS Voice. We pour our hearts before our
Redeemer and take new steps of thanksgiving and surrendering all to HIM. Little
by little forgiveness and love flow from His cross towards our hearts and we feel
relieved from our deepest inner being.

Those responsible and the volunteers who serve there are so gentle and kind. Their
smiles, warm welcome, and willingness to help, add to the beauty of the place.

Two minutes after our arrival, you can see almost everyone in the water, adults,
kids, babies and all. Sweet sounds of happy, playful kids. Loving, caring young
leaders trying to help children control their excitement so the loud voices will not
disturb others. Swimming, looking for crabs, feeding the little fish, playing
football, full of energy and joy, are all to be found.
Then, after sunset, there is a campfire, beautiful worship, and a time to listen. A
time to listen to God through prayer and through His word.

As for the adults, they receive revelations of God's character and joy in the midst
of distress & suffering. Different sessions are held and each one has his input. We
learn from each - others' experiences too.

The kids also learn and understand the true meaning of worship and tuning their
ears to listen to God's voice speaking to them, regardless of their age, or maybe
because of their age, as He says: "Truly I tell you, unless you change and become
like little children, you will never enter the kingdom of heaven." Matt 18:3

On some of our conferences at Tabgha, we come as Jews and Arabs, one in Christ.
We encourage each other to grow in HIS love as ONE, "For there is no difference
between Jew and Gentile—the same Lord is Lord of all and richly blesses all who
call on him" (Romans 10:12),

Anis & Nawal
House of Light ministries
For more pictures of Tabgha click on the following link:
http://houseoflight.net/media-portal/index.php?id=103&?lan=EN;
This article is also available in Nederlands // Deutsch //
Recent News
---
Upcoming Events
---

You are here: House of Light > About