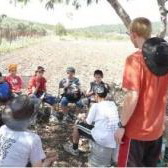 Ladies Retreat & Kings Kids Challenge Hike


Wed , 9-6-2010



3270 views

Women's day of fellowship at the park and youth day hike on House of Light property
---
The women from House of Light took a day off to travel to a national park.  It was a time for these ladies to take a break from the business of life and enjoy fellowship and laughter together.  Praise God!
The Kings Kids Challenge was a full day of adventure.  The youth journeyed from a junction in Shefarmer and walked all the way to the House of Light property.  On the way, the youth stopped and took turns sharing some of their favorite bible verses to encourage each other.  The Lord is moving in the hearts of these young people, because four people gave their lives to the Lord that day.  Hallelujah! 
Once the Kings Kids arrived on the property, they worked hard to clean it up.  After working, in the evening they enjoyed a campfire time together. 
This article is also available in Nederlands //
Recent News
---
Upcoming Events
---

You are here: House of Light > About