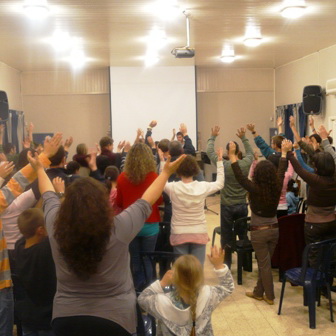 Family Team Adventures Weekend


Sat , 24-3-2012



2874 views

King's Kids Families spend a weekend at Petah Tiqvah
---
 By God's grace and the very welcomed and appreciated effort of King's Kids International leadership, we spent a beautiful weekend with Arab and Jewish families of the King's Kids youth. We were deepening our understanding of what it means to live a kingdom lifestyle in our daily lives as families. This means taking our families into a higher level of ministry by serving the Lord and ministering to Him, together, as a family team.
Our time was inspiring and life changing. We have a lot of homework to do as families in applying principles we may have partially known but surely needed to be reminded of through the teachings of wonderful, talented and anointed teachers.
Some reactions were: "We wish we had learned this 18 years ago when we first got married."  One of the youth said: "I loved this. No one has ever talked to us about this topic, our role as youth in our family…"
And although this was not the main goal of the weekend, we cannot ignore the beauty of the unity between the Arab and Jewish families. It was so precious someone said that it simply reflected a new level of relationship. If you looked from the outside you'd have no clue it was a mixed group of Arabs and Jews.  Truly, it was such a relaxed atmosphere; everyone came open to learn and grow as families, creating a common ground for all.
We now look ahead and look forward to more family adventures with God. We want to listen to His voice and follow His lead into fulfilling His dreams in and through us all as individuals and as family teams.
This article is also available in Nederlands //
Recent News
---
Upcoming Events
---