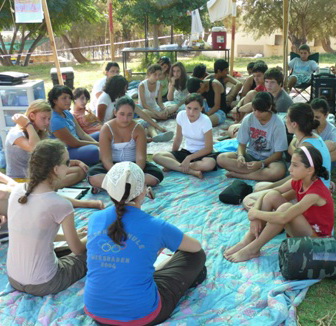 King's Kids Camp 2010 Achziv


Thu , 12-8-2010



3133 views

This years camp was held in Achziv for three days. 28 youth from Arab and Jewish origin came together under the motto 'Extreme'.
---
Extreme
From August 6th till August 8th 35 youth and leaders camped in Achziv, a national park at the beach near Nahariyya, North of Israel.
Living a life that is 'Extreme' - so the motto of the camp - for Jesus was brought up in the teachings and activities. What are we ready to give up? The discipleship to follow Jesus can truly bring us into extreme situations. The youth were encouraged to also ask the Lord to use their hobbies in order to glorify God.
Being divided into groups of four or five persons everybody was challenged to lead his or her group throughout the days in different tasks like cooking.
Praise be to God, as He protected the group being outside 24/7 in very hot weather. As short as the time was, it was really intense and the youth connected quickly.
One of the highlights was a lesson about rap music, taught by a Dutch young man who came to help.
This article is also available in Nederlands //
Recent News
---
Upcoming Events
---