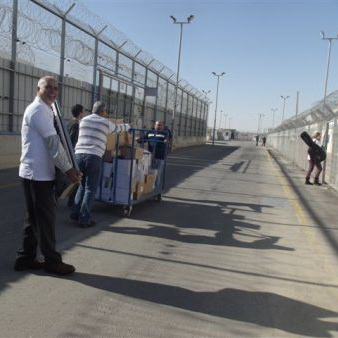 Een nieuw begin in 2014


Fri , 21-2-2014



1275 views

Updates over het gevangeniswerk
---
"Onze reis…. gaat om vooruitgang, niet om perfectie. We hebben te maken met tegenslag, maar je zult verbaasd zijn over wat je kunt bereiken als je kleine stapjes neemt. Kleine dingen tellen op, centimeters worden kilometers. We rijgen onze inspanningen aan elkaar als zovele parels en voor je het weet heb je een heel parelsnoer."
Wat u ook doet, doe het van harte, alsof het voor de Heer is en niet voor de mensen (Kolossenzen 3:23).
"Ik ben jaloers op jullie. Ik wil ook hebben wat jullie zo vasthoudend en zorgzaam maakt. Jullie komen naar ons met vreugde en enthousiasme alsof wij de beste mensen in de wereld zijn." – G.
"Kom alsjeblieft en bid met me. Dat is het enige dat mijn nachtmerries kan verdrijven." – Sh.
"We konden een groot verschil zien in het leven van 'Sh' na jullie bezoek. Kom hem alsjeblieft vaker bezoeken." – rabbijn van de gevangenis waar Sh zit.
Met de leiding van de Heer en hulp van de Russisch-sprekende medewerker Nikolay en 15 andere vrijwilligers uit met elkaar samenwerkende verschillende kerken hadden we de gelegenheid om kerst te vieren. We brachten bezoeken en gaven cadeautjes aan meer dan 300 locale gedetineerden, 170 illegale buitenlandse werknemers en 750 Eritreeërs en Soedanezen. Sommigen waren al gelovig voordat ze opgepakt werden of vanwege vorige bezoeken die we aflegden. Anderen hoorden de boodschap van redding met vreugde en gaven er gehoor aan, maar voor sommigen was het de tijd nog niet. Volgens henzelf hadden ze tijd nodig om dingen op een rijtje te zetten. Sommigen kwamen niet eens opdagen op het "feest". We legden hen uit: Nu is de tijd daarvoor gekomen, nu is de dag van de redding (2 Korintiërs 6:2b).
Blijf alstublieft bidden voor:
·        De "follow-up" bij de bezoeken die gedurende het jaar plaatsvinden. Anis en Nikolay gaan samen om hen die de Heer accepteerden te versterken en nieuwe mensen te bereiken.
·        De maandelijkse ondersteuning voor hen die geen families hebben die voor hen kunnen zorgen en die de Bijbelstudie bezoeken die we gedurende het jaar houden. We storten geld op hun kantine-tegoed voor voedsel, kleding, de tandarts of om een leesbril te kopen, enz.
·        Vrede onder de Eritrese vluchtelingen. We konden normaal elk jaar er 2000 bezoeken, maar dit jaar niet vanwege oproer in hun detentiecentra.
·        Christelijke opvang na de gevangenis. Dit wordt erg belangrijk en het lukt ons niet om mensen te vinden die opvang kunnen verlenen aan hen die vrijgelaten zijn. We hebben nu één ex-gevangene die al 3 jaar bij ons woont, maar we kunnen er zelf niet meer hebben, want we hebben niet het personeel dat hen kan opvangen en bijstaan.
·        De "follow-up" met hun kinderen en families. De Heer heeft de House of Light gezegend en we konden sommige van hun kinderen naar zomerkampen of op zwemles sturen.
Moge de Heer van de vrede zelf u altijd en op elke wijze vrede geven. De Heer zij met u allen (2 Tessalonicenzen 3:16).
De God van de vrede zal Satan nu spoedig vertrappen en aan u onderwerpen. De genade van onze Heer Jezus zij met u (Romeinen 16:20).

You are here: House of Light > Prison Ministry